A range of products derived from various resins
All of our products are designed, manufactured and distributed by us in France or internationally and can be adapted and made to measure to best serve the specific and specific needs of our customers.
PDMFAB also provides you, in addition to its products developed and manufactured by its teams, other product ranges developed by partner brands.
All our products are subject to systematic quality controls on each batch before they are marketed.
We deliver directly to France, DOM TOM and through our various distributors abroad.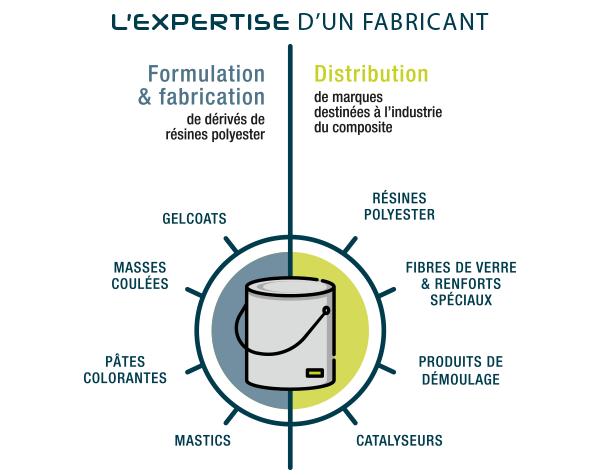 The PDMFAB range
Medogel
Our Complete Line of Gelcoats for the Composites Industry
Semi-isophthalic for industrial applications
Sandable for parts to be repainted
Pure isophthalic for marine applications
Iso NPG for the sanitary and swimming pool industry
Special epoxy hanging
Vinyl ester for chemical resistance
New generation with low styrene content
Fire resistance for M1 classification
Medocol
Range of adhesives and sealants
For any type of structural bonding or other, fiber or non-fiber, lightened, vinyl ester.
Medomoule
Gelocoat based on Vinylester
For the manufacture of polyester gelcoat isovinylester molds for the production of polyester molds.
Medocolor
Range of coloring pastes
For the pigmentation of polyester gelcoats and resins. Without monomers.
Medomold
Range of resins
For the manufacture of One-shot molds.
Medopons
Range of polyester fillers
For preparing models or resurfacing, wood, metal, cast iron support.
Medotek
Range of sprayable materials
For the composites industry as a replacement for reinforcements, glass fibers, felts.
Medoflow
Range of casting masses
Intended for the sanitary ware industry, sinks, shower trays.
Medomast
Polyester sealants range
For any type of repair, machinable, spatulable or projectable version for models.
Medocoat
Direct gloss gelcoat
Intended for modelers, allows to obtain a mirror effect. Without paraffin.
Medoster
Custom-formulated polyester resins
According to the specifications of our customers, tinted RTM application, direct application on polystyrene.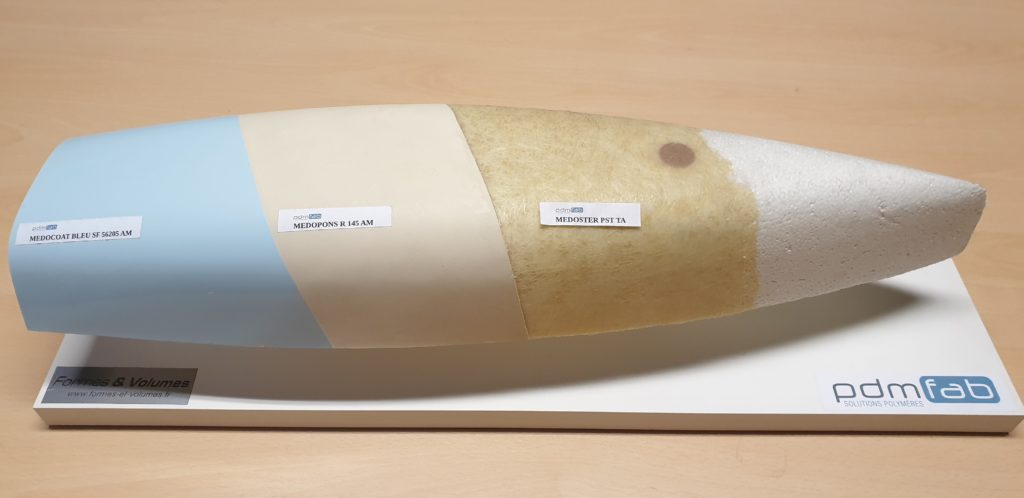 The other brands we distribute
We distribute various brands for the composite industry.
Résines polyester
Wide range of polyester resins: orthophthalic for general lamination, isophthalic for swimming pools and boats, inclusion, improved fire behavior, for classification M, epoxy vinyl ester for general use and for anticorrosion.
Renforts
Glass fibers all grammages, felts, special reinforcements, …
MAT 300/450 / 600gr / m2 EMULSION for general applications
MAT 150/300/450/600 gr / m2 POWDER for swimming pool applications or chemical resistance
Thread projection and winding
ROVING-MAT 300/300, 500/300, 500/450, 800 / 300gr / m2
FELTS 2-3-4mm
GLASS VEIL 30gr / m2
PU foam panel, honeycomb panel, AIREX PVC foam panel, Serge Bibiais carbon rollers
Produits de démoulage
General range: waxes in paste, liquids, mold rim, mold cleaners.
Semi-permanent release agent range
Plastiline: industrial modeling clay
Mousse Polyuréthane
Closed cell expanded polyurethane foam
Catalyseurs
Complete range for the polymerization of polyester resins
Charges
Silica, talc, calcium carbonate, microballoons, glass beads, staple fibers, graphite powder
Solvant
Acetone, monomeric styrene, waxed styrene and others.